In February, shortly after returning from our 10-day trip to Utah and California, we headed out of town again. This time, we dropped off the kids at a friend's house for the week and flew to Maui! I know he doesn't want the attention, but Jeff earned the trip for hitting certain goals at work. It was a huge honor and he was one of the few rookies that made it on the trip. We decided to fly out a few days early and explore the island a little bit before the rest of the company got there. Our plans were almost upset when we arrived at the airport to find our flight had been delayed several hours and we were going to miss our connection. There was no way they could get us to Maui that day, they told us. Why don't you go home and come back in the morning to catch the next flight?

Well, I had just dropped off my kids and there was NO way I was going back home to pick them up and do it all again a day later. We begged and pleaded and politely threatened until the (not so) nice reservations people arranged for us to switch to another carrier that would hopefully get us to Maui that night. If we missed our connection, we would be spending the night in LA, at our own expense. After many other miscommunications and straightenings out, we finally made it on a plane to LA. Upon our arrival there, we had less than 20 minutes to catch a shuttle to take us to the other side of the airport and then book it through an underground tunnel to a different terminal and hopefully make it to our gate on time. We barely made it. Our luggage, however, did not.

So we finally made it to Maui, several hours delayed and without any baggage. But we didn't care. Delta gave us a nice toiletries kit and we made do with what we had. Luckily, I had packed a swim suit in my carry on (thank you to whoever recommended that!) and a trip to Kmart procured one for Jeff. After a short night's sleep due to the 5 hour time difference, we were ready for our first full day in Hawaii!

One of Jeff's work buddies, Jon, and his wife, Elon, flew out early as well. (I later learned that most of the company had come in early or would be staying late. And here I thought we were special.) We met up with Jon and Elon right away and immediately drove to Hana. Jon had the foresight to rent a convertible Jeep. Seriously-- brilliant.


It was so nice to be able to tuck the top away and see the sights without any limited visibility. The road to Hana is infamous for its countless waterfalls and hairpin turns. At 9 weeks pregnant I was a little concerned about the windy road, but frequent stops and constant snacking helped a lot. The views were incredible and we had a great guidebook directing us where to go. The first couple of places it recommended were a bit of a letdown, and one of them we passed on because it felt like we would be trespassing to follow it. Then I read the book a little more carefully and realized the mile markers we'd been using were the wrong set, and we were still several miles from the START of the road to Hana! So glad we didn't go down that path...
You can see the road cutting into the side of the cliffs in the distance.
So gorgeous. By the end of the drive, views like this didn't even phase us anymore because there were SO many of them. As the guidebook predicted, we were in a "beautiful nature coma."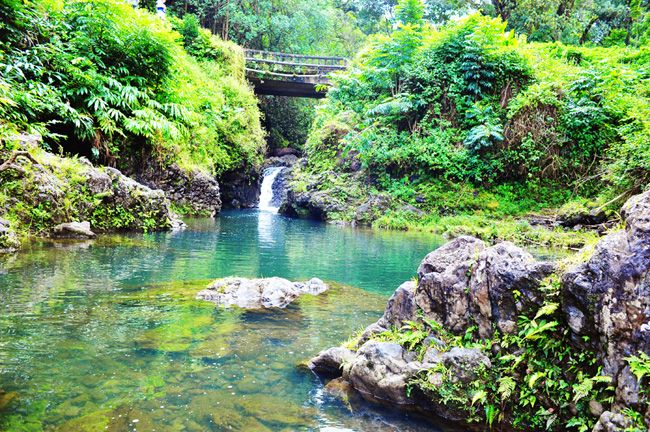 We finally made it to Hana and beyond, to the Seven Sacred Pools. I remembered these pools being pretty fun on my last trip to Maui, 10 years ago. Again, they did not disappoint. Although the water was freezing, swimming in these pools was the highlight of our day to Hana.
After the pools, we had to quickly head back to Kahului for our dinner reservations at Mama's Fish House. After a brief evaluation, we decided to continue along the road to finish the loop rather than head back the way we'd come. Most people don't keep going at this point because the road gets pretty sketchy for a bit, but we were in our sturdy Jeep and were feeling adventurous. I am SO glad we decided to go this way. The terrain changed dramatically and I went from feeling like I was in a lush tropical jungle to thinking I'd landed on Scotland's grassy cliffs. One of the things I took away from our trip was how diverse Maui is. There is a little bit of everything packed into a not very big place.
We made it back just in time for our dinner reservations. Mama's Fish House had come highly recommended as the best seafood on the island. I had also heard it was a pretty classy place. Lucky for us, "classy" in Hawaii still allows for swimsuits under dirty shirts and jeans, because we did not have time to go back to the hotel and change.
I was a little worried this restaurant would not live up to the hype, but it was absolutely the most amazing dining experience I have ever had. Our waiter, Chris, definitely contributed to our positive experience. Not only did he have a wealth of knowledge about everything on the menu, but he had a way of describing things that made me want to try it ALL. Sometimes we'd make him repeat it just to hear it again.
We also had the best table in the restaurant. You can't tell here because it's dark, but that big window behind Jeff looked straight onto the beach. It was awesome.
I tried a lot of new things that night, including tuna sashimi...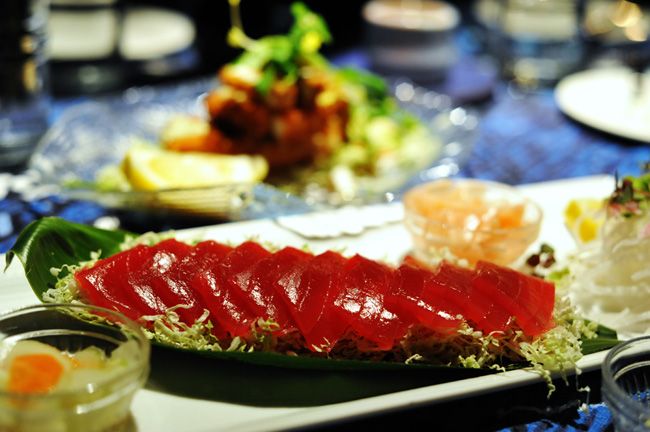 ...and calamari. I know, those aren't exactly the craziest things to taste for the first time (especially at 29), but I have always avoided them both so it was a big deal for me.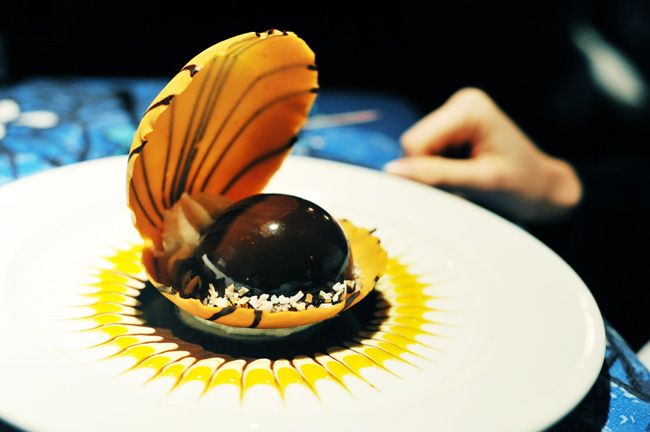 The next day we switched to a new hotel on the other side of the island to begin the company sponsored part of trip. We stayed at the Sheraton and it was beautiful. It sat on a beautiful beach with some of the best snorkeling in Maui right off shore. One day we saw several whales, a huge school or dolphins, and some sort of leaping fish all from the hotel lobby within a few minutes. Also, we scored an end room with not one, but TWO balconies. One of them was huge and both had amazing views of the hotel and the ocean.
The rest of our trip was spent snorkeling, driving around the north side (just as beautiful and diverse as the south side), eating, whale watching (peak whale watching season--fabulous!), eating, shopping, and more eating. Every meal was an adventure. We tried to only go places that had come recommended, and they did not disappoint. Star Noodle in Lahaina was one of our favorites.
I loved being in such a beautiful place, but my favorite part of the whole trip was meeting all the amazing people Jeff works with and their equally amazing spouses. By the time we all left, there was so much hugging you would have thought it was the end of a family reunion! We feel very blessed to be a part of such a great company.