From Utah, we made the 10 hour drive to San Diego to spend a long weekend with my family. Because we flew into Salt Lake and would fly out of San Diego, we needed a one way rental car to take us from UT to CA. One way rentals are expensive, and we didn't want to make it more so by getting a minivan or SUV, so we packed our three kids (all in car seats) and 6 bags into a tiny car for the drive. It was tight and we were missing our DVD player, but we made it without too much fuss.

The weather was as opposite as could be from the first half to the second half of our trip. Southern California was experiencing unusual highs for January, and by the end of our trip I was regretting that I hadn't packed more short sleeves. We got to see a lot of our California cousins (i.e., my older brothers' families), which is always a treat. We felt very lucky to see so much of my brother Dustin, his wife, Ashley, and their twin girls. They live in LA and it is often hard for them to come down during our quick trips so we don't see as much of them as we'd like. But this trip we got to spend lots of quality time together and I fell even more in love with my little nieces.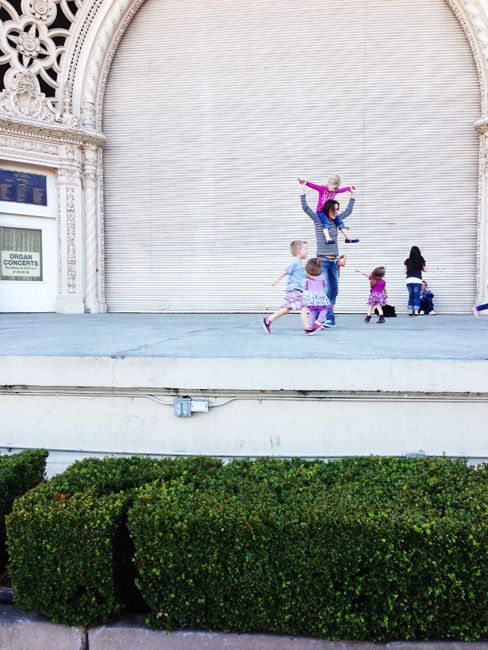 Savannah loved hanging out with her Aunt Ashley in the kitchen. Savannah is a baker at heart and so she and Ashley combined forces to make pita bread for the whole crew. I do my best to keep Savannah entertained and challenged in the kitchen, but watching her with Ashley made me realize I need to step up my game.
These two are the darlings of the family right now. Such sweet and special little girls, and doted on by all. They are growing up too fast for my liking, but I'm glad I've gotten to see them as often as I have during their first year.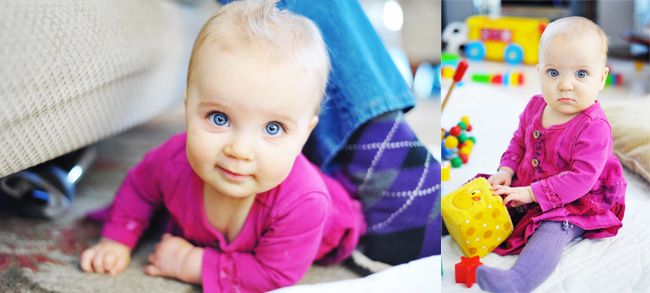 The most current grandkid/grandparent picture. Always interesting.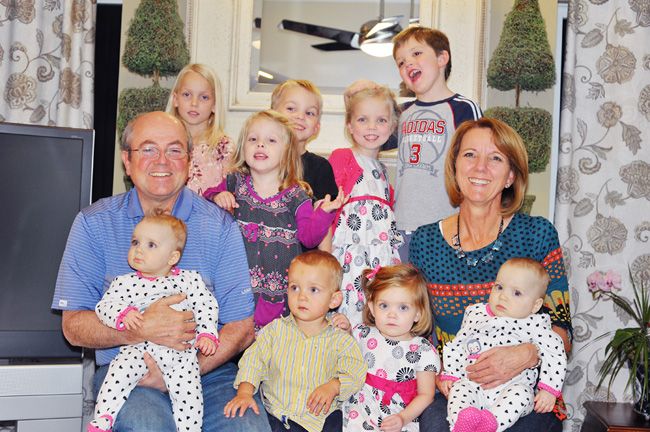 The highlights of the trip were (a) my friend Danielle's sealing, and (b) a trip to Disneyland. Danielle's sealing and reception were the initial reason for the trip. Danielle and I have been friends since we were 10 and when she told me she was engaged I knew I had to be there for her wedding. Most of our childhood friends were able to be at her sealing, and as I looked down the row in the temple and saw all of my friends sitting there, I knew this was what heaven will be like. In fact, I felt like that was the theme of our entire trip. Between the friends and family we saw in Utah, and then the friends and family we saw in California, I got to see 75% of the people that I love most in a two week period of time. It truly was a blissful, heavenly time.
The second highlight was Disneyland. Although we are in California 2-3 times a year (sometimes more), we don't often go to the amusement parks. Thanks to Dustin and the perks to his new job, we were able to take our whole family to Disneyland, along with his family and my brother, Matt's family. I'm pretty sure that my kids have decided Disneyland + cousins = heaven on earth.
We decided not to travel with a stroller (thank goodness-- it would have never fit in our rental car) so it was nice of Jen to let us pack our kids into their double (or quadruple?) stroller.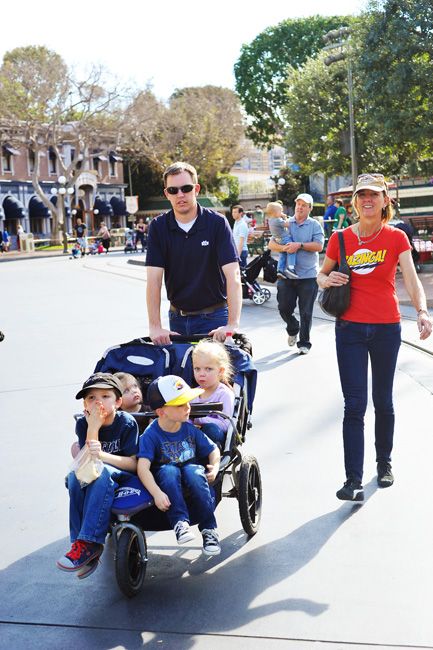 I think my favorite part of Disneyland is just walking around and enjoying the atmosphere. Whether it is dancing to street performers (top), enjoying the view of Sleeping Beauty's castle (middle), or acting like Tarzan (bottom), that is what Disneyland is all about to me.
Savannah begged for cotton candy all day long. I hate the stuff so I resisted as long as possible, but eventually gave in. It was a hit with everyone else. I still don't get it.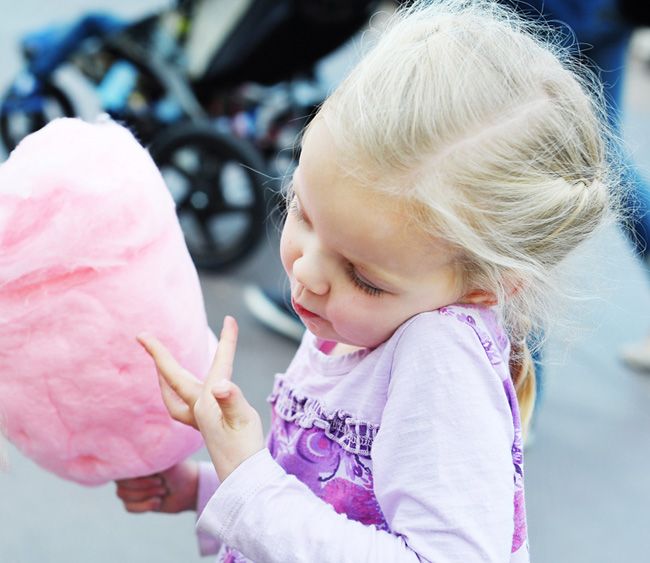 I contemplated finding a sitter for the munchkin, but I am so glad we brought her. She won't remember this trip, but she was so good and had so much fun that there was no reason to leave her out of it.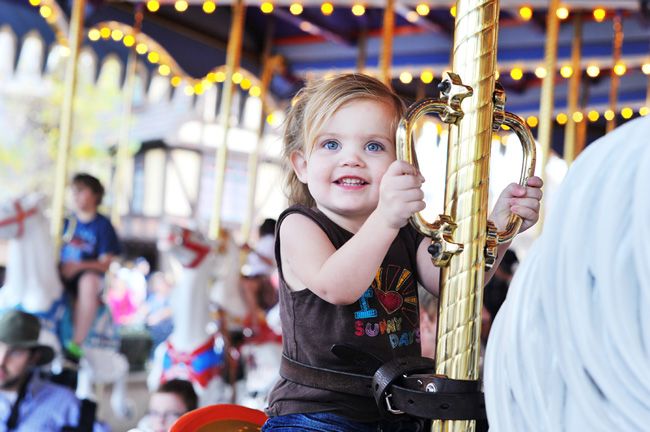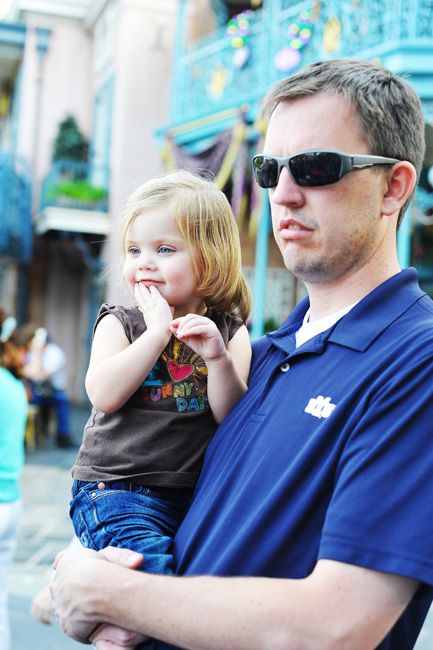 I can't document Disneyland without sharing one funny/a little scary story. Around noon we decided to find some tables to eat our picnic lunch. We'd been sitting there for a few minutes when my cell phone rang. I didn't recognize the number and almost didn't answer it, but it was an Anaheim area code which struck me as odd so I picked up. At first I couldn't understand the person on the other line, until I caught the name, "Logan." I glanced around and then realized that
Logan wasn't with us
. A new voice came on the line then, a young man saying he was a Disneyland employee and he had Logan with him at his ice cream stand. I backtracked our route until I found them.
Apparently, Logan had gotten distracted by the castle as we walked past it and none of us had realized he wasn't with us. Luckily, the employee saw that he was lost and helped Logan call me. I'm actually kind of glad I didn't know he was lost until he was already found or I would have been in a total panic, but it is scary to think how long he was gone and none of us knew it. I'm so glad he knew my cell phone number (which really isn't any of my doing... it's written inside his backpack and he memorized it on his bus rides), and I will make it a point to teach my other children my phone number as soon as they are capable of memorizing it. Instead of being one of those experiences that gets funnier with time, the more I think about it, the more I appreciate how lucky we were and how bad it could have been.
Despite that one little hiccup, the day (as well as the entire trip) was a complete success. We loved our post-Christmas vacation and can't wait to see all our family again soon.