A few days before Christmas, the weather men/apps/websites began predicting snow. While this may not mean much to our northern neighbors, we were pretty excited about the idea of a white Christmas. As the day drew closer, they were predicting as much as 6 inches, which would be a huge snowfall for these parts. We were warned to avoid leaving our homes because the roads would likely be very dangerous. (I know, it sounds silly over a few inches of snow, but our city is not equipped for snowfall so it doesn't take much for roads to become slick and icy.)

Well, the anticipated snowfall was a little bit of a disappointment, but Christmas itself was not. We did get some snow, but I'd be stretching to say it was more than a half inch. Jeff and I (well, mostly me) thought long and hard about how we wanted this Christmas to be. When we are sharing Christmas with our parents and siblings, we usually let everyone else call the plays in terms of traditions and schedule. Since it was just us this year, we had to plan everything ourselves. In the end, we borrowed some things from each side of the family and then added a few of our own.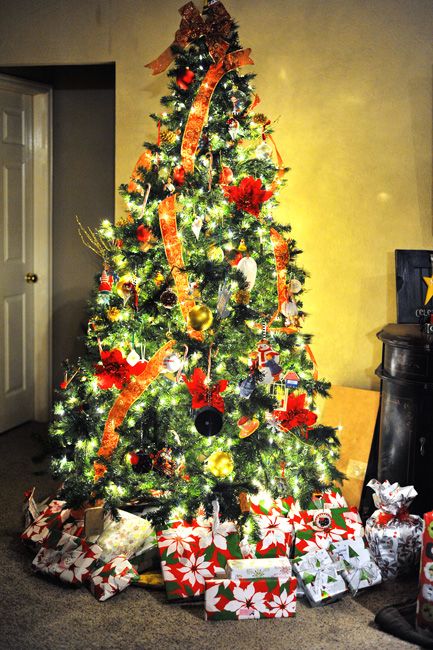 Christmas Eve we made beds for the kids on our floor so we could all sleep in the same room. Halfway through the night Savannah was so uncomfortable that we let her go sleep in her own room. (I think the little stinker just wanted to peek at the presents.) In the morning, Savannah came back into our room, passing by the living room on her way in. Her reaction was priceless. She could not impress on Logan enough how BIG one present was by the tree. (Size is everything at this age!)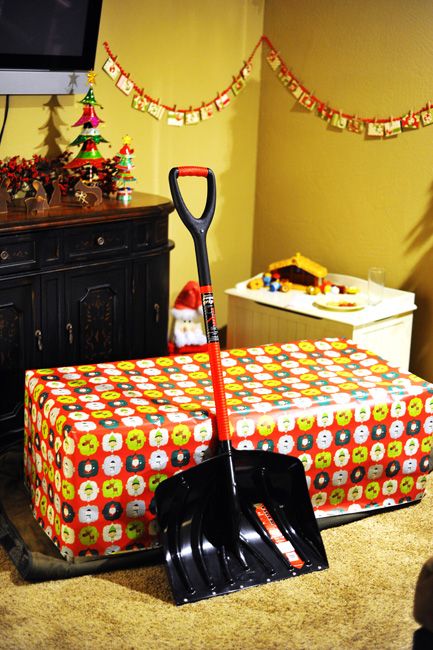 Funny side story about the snow shovel. Santa brought us a shovel since he heard we were supposed to be getting snow. Well, after it was all over and we hadn't needed it, I explained to the kids that sometimes Santa gets his gifts at local stores which is why we were able to return our shovel to Sam's Club. :)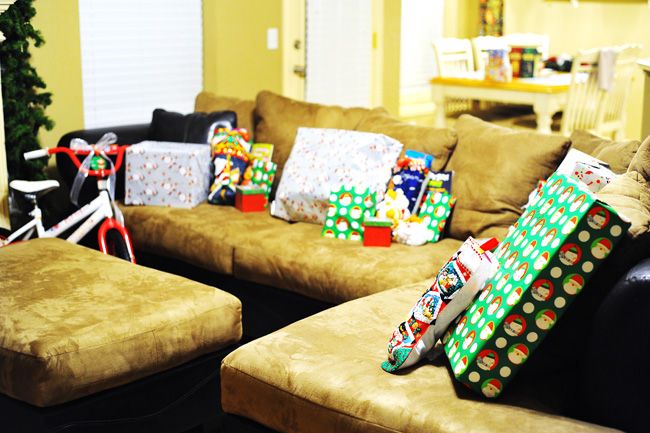 The initial reaction.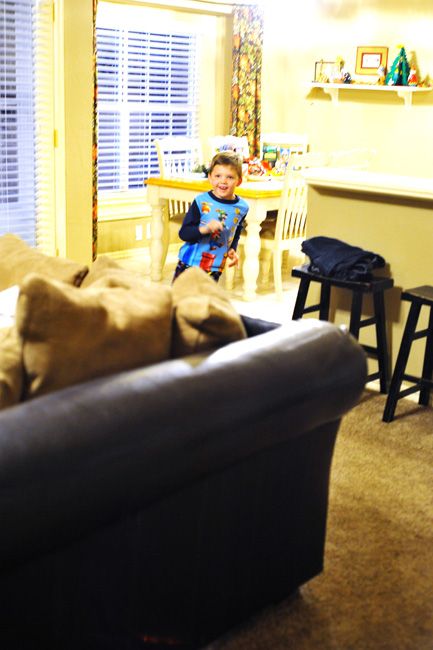 Opening presents.
Logan and Savannah each got a bottle of root beer in their stockings. Way better than an orange.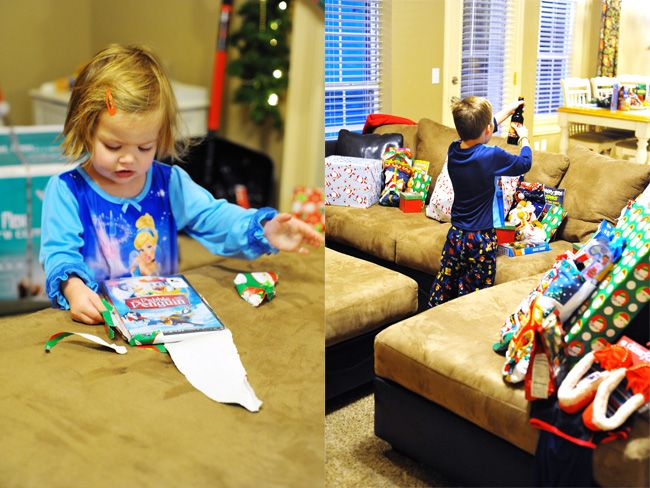 Izzy has an obsession with penguins (thanks to Mr. Popper's Penguins) so she was pretty excited to get a stuffed penguin, even if it was unstuffed at the moment. (My kids LOVE Build-a-Bear so I didn't want to take away the experience of going and getting it stuffed.)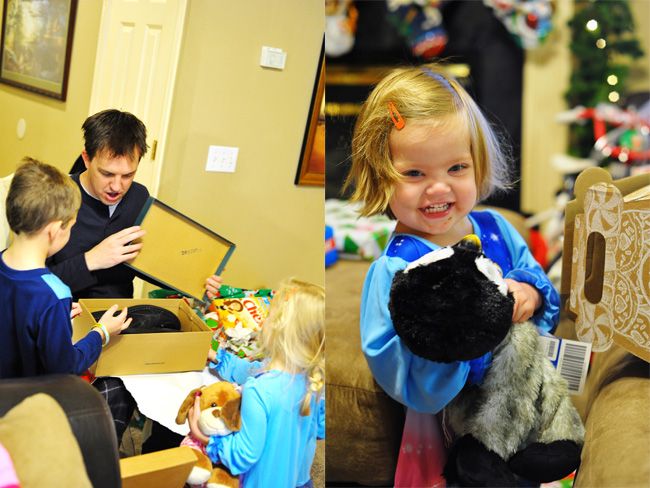 And the HUGE present Savannah couldn't get enough of... a trampoline! Already I am seeing the benefits of this investment. I can't wait for summertime when we can stick a sprinkler underneath it.
Santa brought each kid a bell from his sleigh.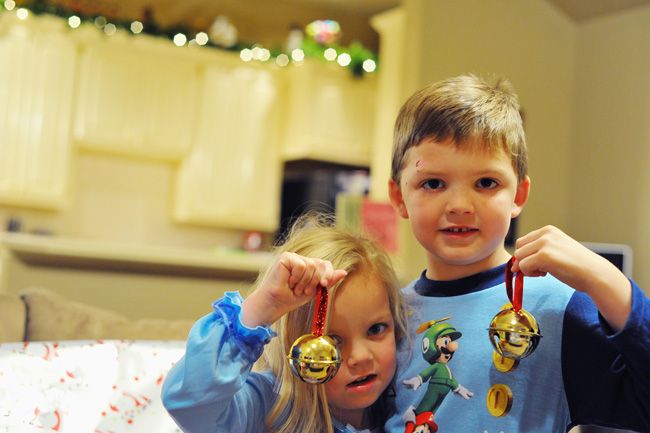 This is a Pendleton tradition. Santa brings treats and sets them up on the table.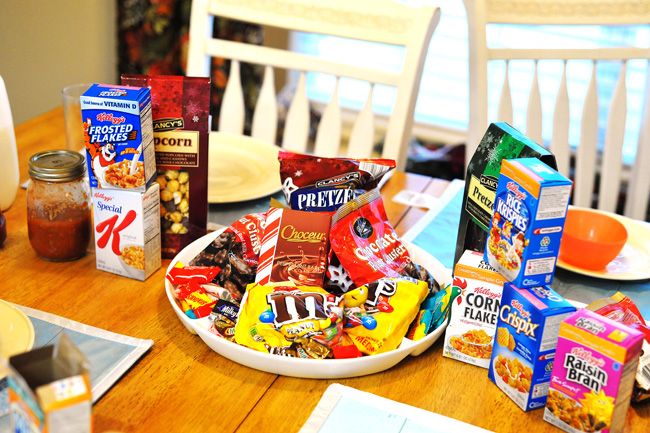 Also from the Pendleton side: Christmas coffee cake. So so yummy.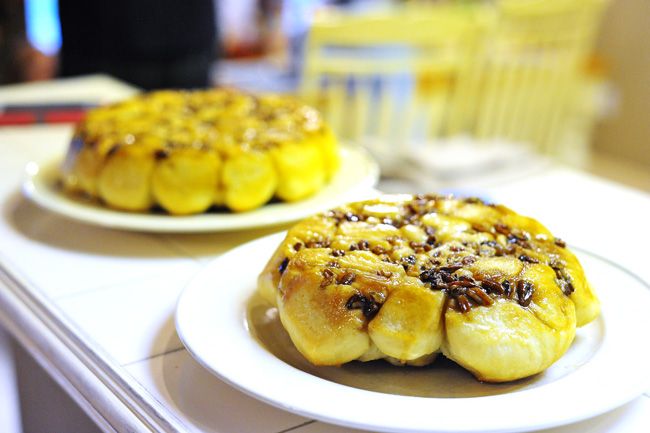 Logan with his loot.
Likewise, here's Savannah.
Isabelle wouldn't pose with hers, but here it is.
The rest of the day was spent Skyping with family and entertaining the missionaries for dinner. We had developed such a good relationship with our missionaries. It was especially fun to have them on Christmas because they were relaxed and more like kids instead of missionaries.
Now that we have our first solo Christmas under our belt, I am excited about future Christmases. We weren't as lonely as I thought we'd be, thanks to Skype, and we had a good time spending the day inside, enjoying each other's company.