My baby boy is 6. How did this happen?


Logan turned 6 on April 19. Each year I get a little better at planning special birthdays for my kids. I'm still a long way from perfect, but maybe by the time they are teenagers I'll have this figured out. I've learned that I need to start thinking about it more than a day or so in advance and that I should ask
them
what
they
would like to do. And so, aside from a few little suggestions from me, Logan's birthday went down just as
he
wanted it to.
The night before, I blew up 6 balloons with money in them and put them in his room. Savannah woke up first and shouted, "Logan! Your birthday balloons!" Logan quickly realized there was money inside and started popping them like mad, despite his typical fear of balloons popping. Apparently a few bucks was enough to conquer that fear.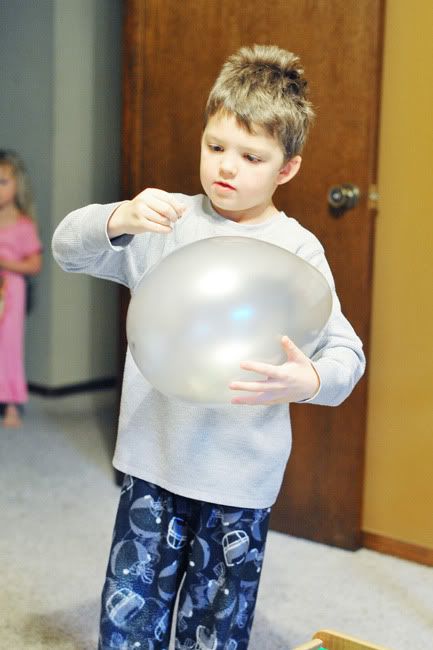 For breakfast, he commissioned Dad to make German pancakes, his favorite breakfast. Since he had a few minutes to spare before going to school, I let him open his presents in the morning. He has been saving up his money for several months to buy a dinosaur Hot Wheels set, so he was thrilled to find it waiting under the wrapping paper.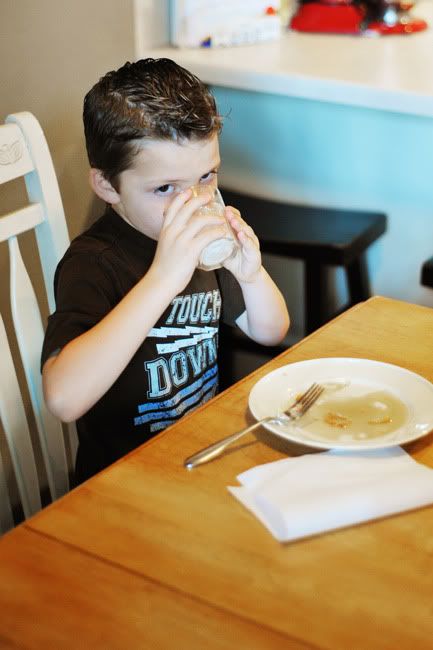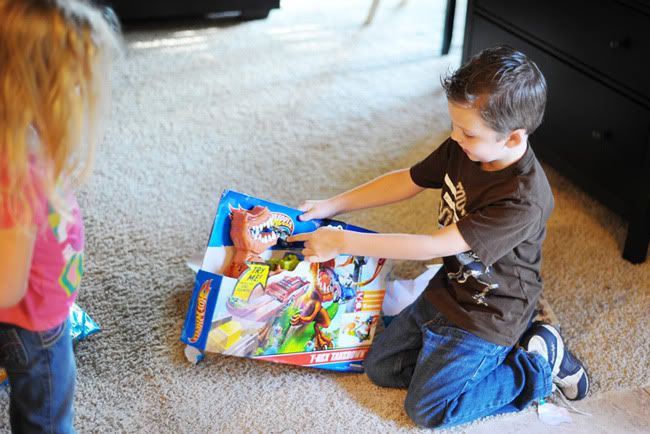 Mid-morning, the girls and I headed over to Logan's school to bring his birthday treats for his class (Oreos, another one of his favorites) and watch the hoopla they do to celebrate birthdays in his class. He had made a book with pictures of himself that he read to his class, then they danced around him and sang some rousing birthday song. Each student then colored a picture of a birthday cake to put in a book for Logan. He was seriously on cloud 9 with all the attention.
After school we went to McDonald's, per Logan's request. He had wanted to go there for his birthday dinner, but I convinced him to do lunch at McDonald's and pick somewhere a little more appetizing for dinner. :) Usually when we go to McDonald's, it is because there is an organized play date at the playland. I think Logan just assumes there will be 10+ friends every time we go, so he was a little disappointed that we were the only ones there.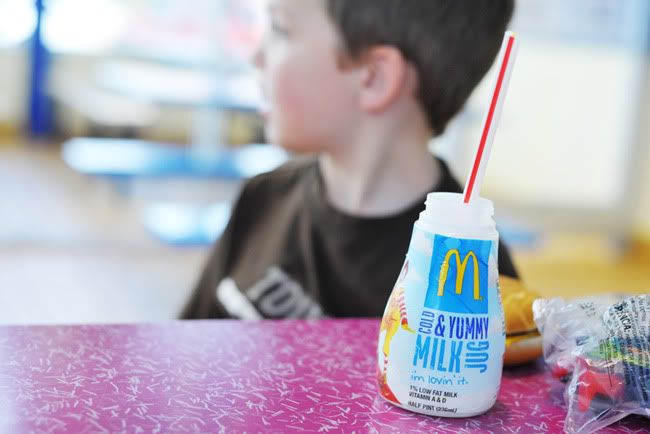 After lunch we headed to Unpluggitz, an art studio/indoor playground. We'd never been before, but it sounded right up Logan's alley with lots of art projects and a big play set. The kids loved it and we had the place to ourselves so I enjoyed not having to keep such a close eye on them.
Dinner was hosted by Red Robin. This was the only event of the day I didn't take pictures of, so use your imagination. The whole restaurant sang and clapped for him. He was so thrilled. Again, this kid LOVES attention. Not a shy bone in his body.
Finally, we picked up some Krispy Kremes on the way home to make a donut birthday cake. When I told Logan my idea for a stacked donut cake, I had pictured something a little more spread out and tiered. But he had other ideas. He wanted it stacked just like a tower of tires. And since it was his birthday, of course we complied.
Happy birthday, Logan! I hope it was all you hoped for!
P.S. I gave Logan the choice of a birthday party or a day at an amusement park. It was a tough choice, but he chose the amusement park. We'll do that soon and I'll post about it then!
6 year old stats: 45 lbs (40%), 45.5 inches (42%)