Logan chose to play flag football this fall instead of soccer. I feel like a broken record when it comes to sports: "Not very good, but had a lot of fun, blah, blah, blah." Logan learned a ton this season about the rules and strategy of football, much to his father's delight, but had a hard time implementing those things on the field. He learned how to play with a mouth guard, as well as how to lose a mouth guard nearly every single game. He now knows more about football positions than I do, and I actually watch a fair amount of football (for a girl).
I feel a little guilty posting these next pictures as they show Logan getting his flag pulled, but I love how intense all these 6- and 7-year-olds look. We only saw one girl on any of the teams all season, and she was a head taller and a ton faster than anyone on our team. So it's really not as bad as it sounds to say Logan had his flag pulled by a girl.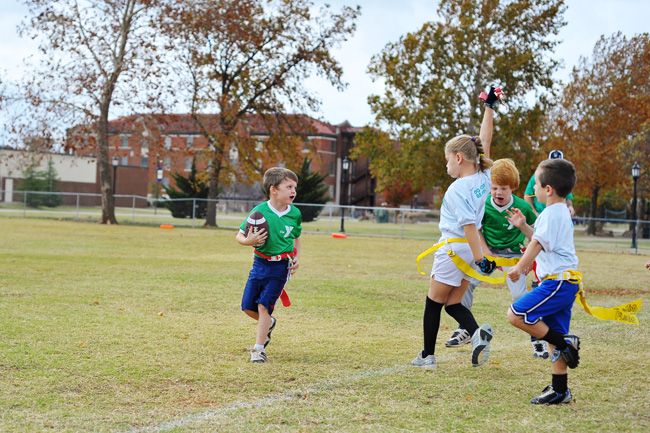 All the coaches of YMCA sports are parent volunteers, so some seasons we get luckier than others. We had great coaches for both kids this fall. It took us half the season to find out that this coach is a member of our church, just a few blocks outside of our ward (congregation) boundary. It's a small Mormon world.