My parents were in town this weekend for my brother's graduation (congrats, Byron!) so we took advantage of their visit and blessed Isabelle while they were here. It was a busy day, being Easter Sunday, but it seemed appropriate to celebrate this precious new life on Easter. Both of Isabelle's grandfathers, four of her uncles, her great-grandfather, and her father stood in the circle while she was blessed. It was a marvelous gathering of priesthood holders. Her blessing was beautiful as was she.


A word on Isabelle's blessing dress: I had intended to use the dress my mom made for Savannah's blessing. It is in mint condition and I wanted to see it used again. However, my mom had been cleaning out some storage boxes before coming to visit and had found an antique blessing gown. We're not sure whose it is, but it is probably 80+ years old and most likely a family heirloom. It was in fantastic condition so we tried it on Isabelle just to see. It was so beautiful and perfect for our little Belle. It just seemed to fit the old soul that I swear is in her tiny little body. I hope one day to discover whose dress she wore, but for now it is enough to know that Isabelle now has a tie with one of her ancestors.
A photo log of all those who attended Isabelle's blessing:
My family. My whole life I've been told I'm a spitting replica of my dad, but lately I've heard more and more that I look like my mom. What do you think?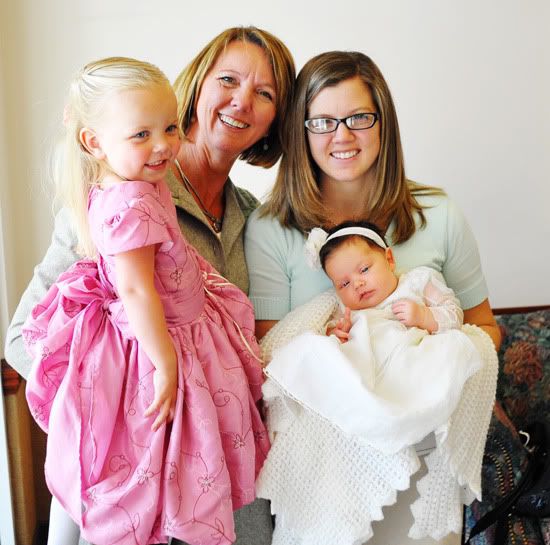 Isabelle's Pendleton grandparents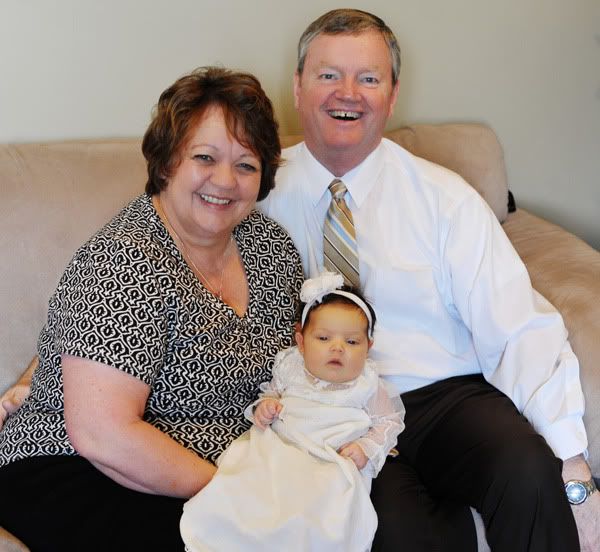 Uncle James and Aunt Katy
Uncle Michael and Aunt Ashley