A lesson at church last week on service reminded me of an experience I had several years ago. It happened before I had started blogging, and I don't think I've ever recorded it elsewhere. The details are blurry, but I want to document it before I forget altogether.

When Logan was about 8 months old, he came down with something (can't remember exactly what) and I needed to take him to the doctor. My car was in the shop, but the doctor's office was just across the street so I figured I could walk. In theory, that should have been fine, but (a) it was the middle of winter and had started to snow that morning, and (b) the street I had to cross was a four-lane highway. Nevertheless, I bundled us up and started the short walk. Instead of cutting straight across the street, I headed up towards the nearest traffic light so I could use the crosswalk. As I got closer, however, I realized there was no crosswalk at that light. I began to panic a little bit, wondering how I was going to dart across the busy highway while holding my not-so-little baby without slipping on the fresh snow. I thought about turning back, but just then a car pulled over with an older couple in it. They asked where I was going and offered to take me there. Gratefully, I climbed into their back seat with Logan on my lap, and they safely delivered us to the doctor's office.

Had that been all, I would have had plenty of reason to be grateful for the kindness of strangers and the love of a watchful Heavenly Father, but it doesn't end there. A few weeks later I related this story in Relief Society (a church meeting), more as an example of my own stupidity and recklessness than anything else. After that meeting, one of my friends approached me and said that she had seen me walking on the sidewalk that day. Concerned, she turned around as soon as she could to come back and pick me up, but by the time she got there I was gone. I was touched by her thoughtfulness, and once again reminded that Heavenly Father knows our needs. A day or two later, I received a phone call from another friend who had heard my story in Relief Society. She asked when it was that I had been stranded in the snow, and when I told her, she related that she had felt that she needed to call me that day. I hung up with her and sat for several minutes, overwhelmed with gratitude.

I knew this was the hand of the Lord in my life, but I couldn't believe how many people He had sent to help me. Friends, neighbors, strangers... He made sure there were enough that I would not be left alone that day. That day I saw a tiny glimpse of the immeasurable love He has for each of us. He does not leave a job half done, and nothing goes unnoticed in His eyes.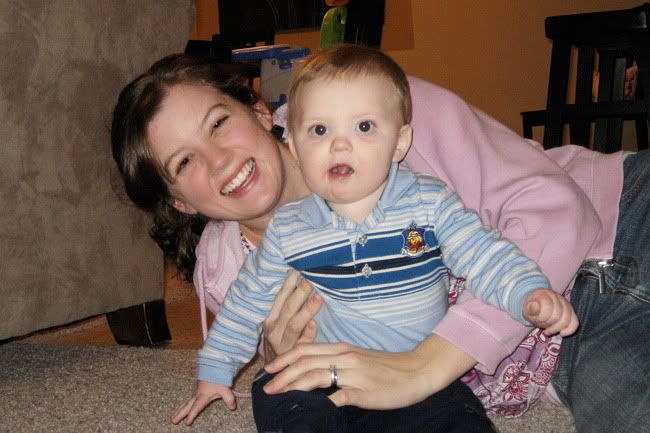 Logan and I, January 2007