Blogging has dropped to the very bottom of my priority list this month. Even as I type this, there are a million other things I should be doing right now. But let's be realistic-- there are always other things I should be doing. And things are going to get worse before they get better. So I am going to blatantly ignore my 3 page to-do list and take a moment to document a little trip we took back in October.

This is our first year with a child in school, so it was our first experience with UEA, a two-day holiday for Utah schools in the fall. The week of UEA I realized that Logan's fall break overlapped with the day I had cancelled my class at BYU. I asked Jeff is he could get the days off, and before we knew it we had an unexpected 4-day weekend and nowhere to go.

With basically no itinerary or travel plans, we started driving south. We stopped the first night in Cedar City. We spent a day there swimming and playing at the park, then headed to Vegas. We kept driving from city to city, looking up family-friendly activities at each place. On the way back we stopped in St. George and visited a park I have been trying to go to for years. In all honesty, 90% of the things we did we could have done right at home, but it was nice to get away and spend some quality family time together. It was actually on this trip that we received the offer and decided to take the job in Oklahoma.

Here come the pictures. Brace yourself.

At the park in Cedar City: This was such a fun park-- similar to the Discovery Park in Pleasant Grove. The weather was absolutely perfect that day. Even Isabelle enjoyed it. She may not move much, but she sure makes a lot of funny faces!


Children's Museum in Las Vegas: This museum was a lot like every other children's museum I've been to: dirty, crowded, and overpriced. But the kids loved it nonetheless. Logan especially liked the auto mechanic store and the airport. He manned the ticket counter for a good 20 minutes, checking in each kid that passed through. It was so funny to me that he knew to have them take their shoes off at the security checkpoint.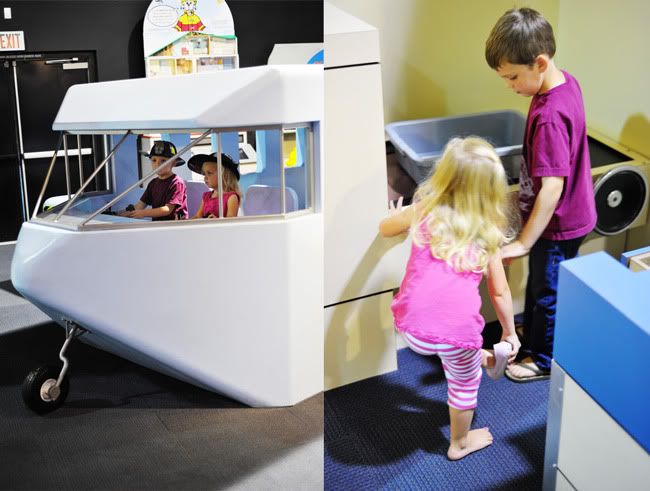 Hiking in St. George: We finally made it to Pioneer Park in St. George so I could hike "the Crack." Logan and Savannah went up it with me while Jeff took Isabelle and met us at the top. We met a little girl about Savannah's age coming back down with her dad in tears so I was a little worried my kids wouldn't make it, but they did great. I am so excited to take them on longer and more exciting hikes as they get older.
Swimming in Mesquite: We swam several times over the course of the weekend, but this particular swim was monumental in that Logan swam across the pool
without his floaties
. My kids love swimming, but they are very cautious and require some sort of floatation device at all times. I am excited to get him really swimming next summer.