My family was here for the week of Thanksgiving and the only picture I took the whole time was this: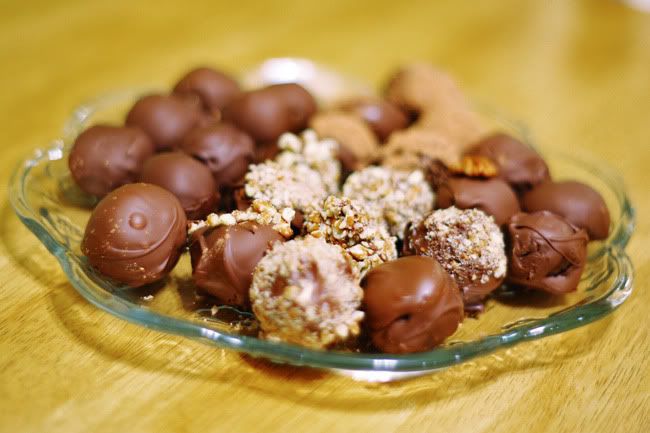 I guess you can tell where my priorities lie. :-)

We really did have a fun filled week, and if anything, my lack of pictures are proof of that. The more fun we have, the less I think to pull out my camera. It was especially fun to see my brother Dustin and his wife. They are so busy that any time we get with this is special. Dustin is an illustrator so Logan was in heaven with all the drawings he commissioned Dustin to make for him. The truffle picture above is one of Ashley's creations. I asked if she would teach us to make them while she was here. I can't wait to make another batch; these didn't last more than 3 days.

Thanksgiving itself was a bit of a whirlwind. We bought tickets to a 4 o'clock movie thinking we would be finished eating in plenty of time. As usually happens, the turkey took a little bit longer to cook than expected and when we finally sat down we had 15 minutes before we needed to leave. The first group headed to the movie while Ashley and I stayed behind to let a pie finish baking. I think we must have broken a record for the fastest clean-up ever! Between the two of us, we put all the food away, washed all the dishes, cleared the table, had the dishwasher running, finished baking a pumpkin pie, and still made it to the movie before the previews had ended. Amazing!

Among other things, we visited lots of family, did some shopping (of course), saw the lights at Temple Square, played games, made caramels, and stayed up way too late every night. It was a great week and I was sad when everyone left.

I lied. I took one more picture. Logan needed to dress up like an Indian or pilgrim for his Preschool Thanksgiving dinner. We improvised last minute and made him a paper bag Indian vest. He decorated the vest and feathers himself. I think he makes a pretty cute Indian.