What a Halloween! After weeks of anticipation and preparation, Halloween got rained out. :( We were all ready to attend our church trunk or treat. I pulled out the camera to take some pictures and had about 3 minutes before the light drizzle turned into pouring rain. (Hence why the picture of me is in the garage.) They ended up moving our 3 ward trunk or treat inside-- talk about standing room only! It was absolutely insane so once we felt like we had a good candy supply we took off. By the time we got home, the rain had almost completely stopped, so we trick or treated to a couple of neighbors houses to end the night.

Gotta love trick or treating in Utah - every costume has to be modified for cold weather. I'm just glad Savannah wore the Tinkerbell costume I spent hours making. The day before she would have nothing to do with it!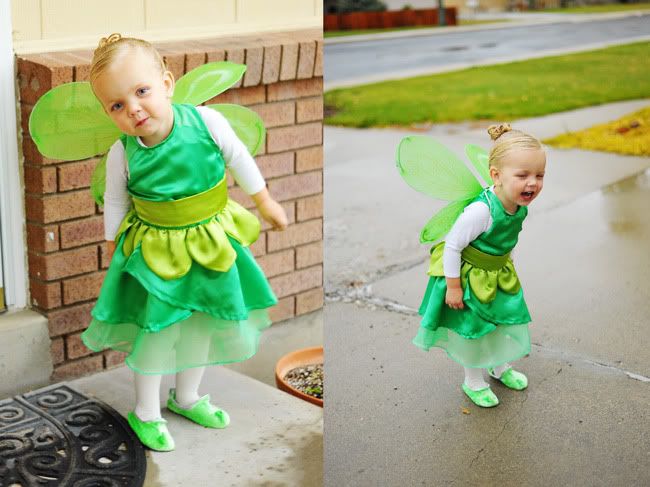 A month or so before Halloween I tried to convince Logan to be a
sheriff again
since his costume still fit. He agreed, so long as he was Sheriff Woody. He wanted a few modifications made to make it more Woody-ish, but I was saved from that by a friend that had a Woody costume we could borrow-- much more authentic and Logan was one happy cowboy. He especially loved his "Woody curl" that I had to gel and hairspray to death just to last 5 minutes. His best buddy was Buzz Lightyear so they were the perfect team.
Last year I saw someone dress up as Juno for Halloween and thought if I was ever pregnant enough to be showing over Halloween I would try it. Jeff wimped out and wouldn't be my boyfriend, and without him I don't think many people even knew I had dressed up. Oh well, at least I was comfortable!