In mid-April, all the first graders at Logan's school put on a play. Well, to be honest, it was mostly a concert with a few speaking parts in between. The play was all about bugs and the kids did a great job. Logan played an army ant and spent far more time planning and worrying about his costume than I did. He really wanted full camouflage attire, but I've never been much for camo so we had absolutely nothing to draw from. Finally I broke down and hit up Goodwill to buy him some army pants. I know he wasn't completely satisfied with his getup, but I think he looked pretty cute.

Logan had one small line that was part of a sound-off style song. This kid does not have a shy bone in his body so I wasn't worried about stage fright, and sure enough he hammed it up and did a great job. It's a little hard to see, but in the first picture he is saying his line at the mic just left of center stage, and the second he is doing some funny dance move.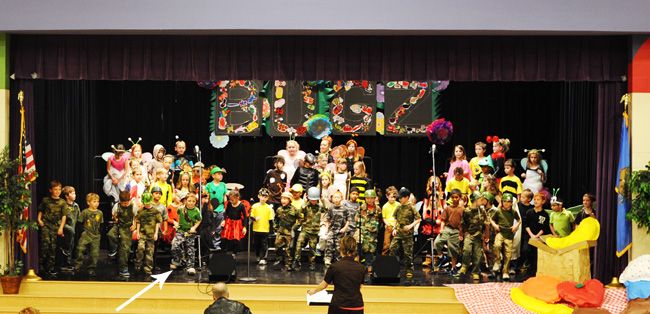 It feels a little bit like Where's Waldo trying to find Logan in the masses. We were sitting clear at the back of the gym but I was able to come up at the end to get one close up. Now I can see why Logan was stressing a bit about his costume. I couldn't believe how elaborate some of the other kids' costumes were! Oh well, it's never to early to learn not to compare ourselves to other, right?